Are you looking for some fresh ideas for Taco Tuesday? Today we're talking (taco-ing?!) fish taco recipes. This is the fourth post in a meal-planning series focusing on theme nights for easy meal planning. Specifically, we're hyper-focusing on Taco Tuesday.
It's fun. It's fresh. Plus, it's versatile. Tacos are the best. We just love them. If you're in the mood for beef tacos, you can find more than 20 here. We have about a dozen chicken taco recipes here. Finally, there are more than 20 veggie taco (including vegetarian and vegan options) rounded up here. If you need even more inspiration, check out our Taco Tuesday Pinterest board.
Why Fish for Taco Tuesday?
There are so many options for which fish or seafood to choose in your tacos! We've got a few options for fish here, including salmon, cod, and shrimp but feel free to swap it out for another favorite.
If we're having a lazy night, we'll even cook up frozen fish sticks or fillets for crispy fish tacos. I love using a broccoli slaw or bagged coleslaw mix (you can mix up your own dressing so fast!) as shortcuts. One of the keys to the perfect fish tacos is a super flavorful sauce. There are some GREAT options for that here. Avocado or guac also complements a lot of fish tacos perfectly. Don't forget to pin or bookmark for later so you can try them all out! 🙂
Fish Taco Recipes
Easy Fish Tacos (Freezer Meals 101)
This fish taco is super customizable, and –bonus–it's freezer-friendly!
Salmon Tacos (Amanda's Cooking)
Salmon is the star of this family-favorite recipe–or is it the avocado crema? You decide! 😉
Beer-Battered Cod Tacos (Krumpli)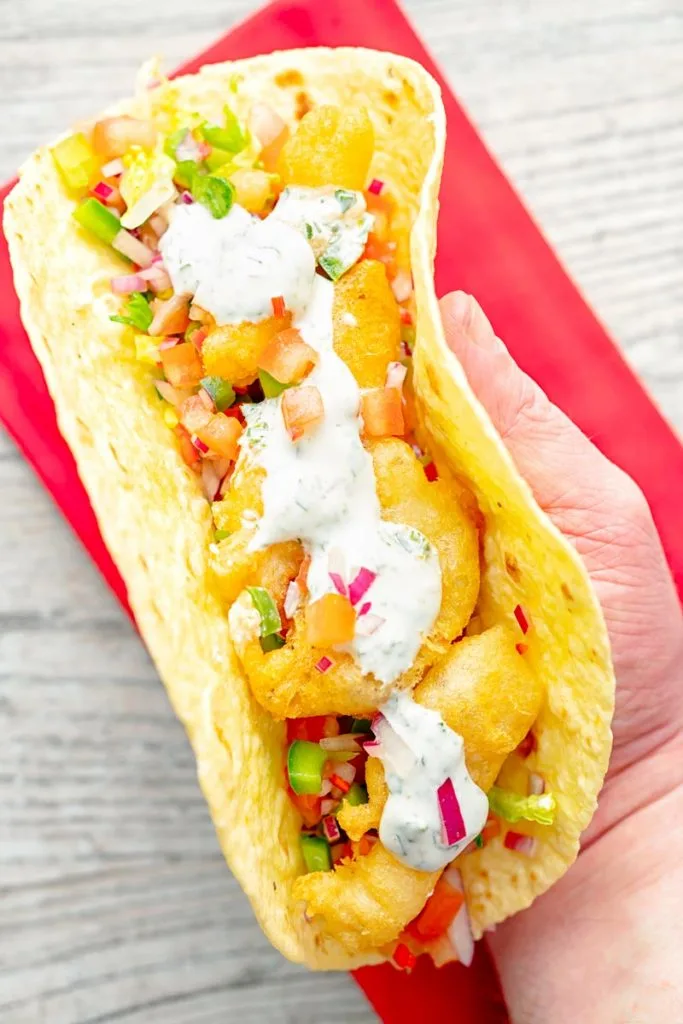 Use your favorite brew for these perfectly crispy, crunchy tacos!
Egg Tacos with Smoked Salmon (Homemade and Yummy)
I thought I'd made salmon in every possible way. It's an ingredient that works in sooo many ways! I love the adorable addition of micro greens here.

Shrimp Fajitas Recipe (This Guy Who Grills)
Fajitas are sooo yummy for Taco Tuesday and shrimp is a great way to freshen up a boring menu.

Fish Tacos w/ Mango Salsa (Everyday Delicious)
You'll get a double dose of mango in these fish tacos with sweet heat. Mango salsa and a magnificent mango sauce to top it off.
Indian Street Tacos with Grilled Shrimp (Beyond Mere Sustenance)
These Indian-Mexican fusion tacos take marinated shrimp (with garam masala), combined with a cucumber-mint raitta, and a mango-filled salsa to the next delicious level!
Crispy Fish Tacos with Pico De Gallo (Kitchen Sanctuary)
It's so hard to pick favorite when it comes to fish tacos (or any tacos!), but I LOVE a crispy coating on fish. This recipe nails it. 🙂

Shrimp Tacos with Watermelon Pineapple Salsa (Bucket List Tummy)
These tacos have everything I love about summer. Fresh flavors, fresh fruit, and made super quickly.
That (Almost) Wraps It Up…
We're almost finished with our Taco Tuesday meal-planning series. We'll wrap up the menu with turkey and pork options. Until then, pin or share these fish tacos recipes on your favorite social media! Thanks friends. We'll taco again soon. 😉